News Archive 2007
JANUARY 2007 :

INDIA SPECIAL
CWT Globelink Singapore and W.W.Shipping group ,India decided to widen their scope of business relation ship in India. Globelink WW India (P) Ltd the joint venture company will capitalize the strength of the new network in India with their 22 offices to expand its services to the customers.These offices will not only be handling groupage cargoes and FCL Freight Forwarding but will also be involved in

• Project Shipments with own 20' / 40' flat racks and open top Containers.
• Provide ship chartering services.
• Import and Export Air Freights
• Acting as General Agents in India for Maruba clan S.A., Buenos Aires and Sea Orient Lines Malaysia.
• In order for the group to understand the new network better ,we will feature one office in every month 's issue of this e-newsletter.
• This month we start with Chennai. Check it out in our eNewsletter column !
FEBRUARY 2007 :

DUBAI PROJECT CARGO
Globelink Weststar undertakes two major project cargo

Project 1. Emirates Flight Kitchen – 98 x 40fts - Period 6 months
This was a project on DDP basis to Emirates for their new kitchen Facility in Dubai. Shipper M/s. Prause Partner contracted us for this job. The project is on the final stages of installation at site. The total job consisted of Flat racks, Open tops and standard containers where we need to coordinate with various authorities for permissions and arrange for the offloading at site on specific dates and time in co ordination with the Engineers from Shipper/Consignees side.

Project 2. Team Turbulence from Japan – For UAE Desert Challenge.
This shipment is handled at our warehouse in Al Quoz . We were recommended through our Japanese customer based in Sharjah. Though not clearly visible in the picture, our logo was also attached at the rear end of the bike.




(Above pix: happy faces of the team members who promised to use our service again next year)
MARCH 2007 :

No News Update
Sorry. There is no news update for this month.
APRIL 2007 :

CEO Summit 2007 - ( 19th-20th March )
Globelink's annual CEO SUMMIT 2007 was held at RASA SENTOSA RESORT HOTEL in Sentosa Island, located south of Singapore. CWT Globelink Singapore (HQ) took the center stage and played host to over 30 delegates from Globelink offices in Australia, China, Egypt, India, Indonesia, Korea, Malaysia, Pakistan, Sri Lanka, Spain, Thailand, United Arab Emirates and Vietnam. Delegates were given a tour of parent company, CWT Limited's warehouses which include the commodities warehouse with gross floor area of 1.5 mil sq ft and a new five storey multilevel warehouse named, "CWT Logistics Hub 2" with total gross floor area of more than 500,000 sq ft. Mr Adam Slater of C& P Asia also gave delegates an insight on the opportunities in the LME industry. Globelink offices can then leverage on the strengths of the Group's parent companies C&P GROUP and CWT LIMITED in the following areas:-

Enhanced warehousing facilities spilling over 5 million square feet

• Efficient transportation network which commands a fleet of more than 200 primemovers and 800 chassis
• Container depot which boasts a handling capacity greater that 25,000 teus, including ISO tanks & reefer containers
• Comprehensive supply chain management which encompasses - chemical logistics, auto-parts logistics, metal logistics…etc
• Full array of integrated commodity services which include collateral management in bonded, non-bonded and on-site warehouses, freight forwarding, shipping, surveying, sampling and testing.
• Listed London Metal Exchange (LME) warehouse operator with LME approved facilities in Singapore, Korea, Dubai, Rotterdam and Hamburg, specializing in the handling and storage of both ferrous and non ferrous metals, soft commodities, plastics and petrochemical products.
• Wide range of engineering maintenance and surface preparation services , equipped with one of the best facilities in Asia
MAY 2007 :

Project Cargo : Project Big Lift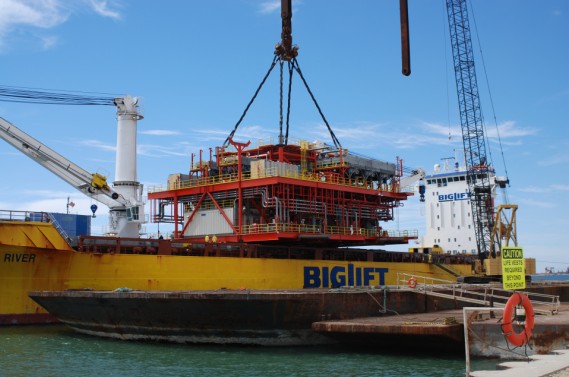 Globelink WW India has handled for the first time a charter into Pipavav Port ex-New York

• Commodity handled: 'Compressed Injection Module' weighing 1400 tons
• Handled at the outer anchorage due to heavy weight of the commodity and its irregular shape
• Three layers of Sea-fastening were opened in order to move the 'load' from the Vessel into the Barge
• Floating Cranes were used in order to transfer the 'load', as the vessel was handled at the outer anchorage
On the whole, an extremely well co-ordinated effort by Globelink WW India.

Trade Meet – Western & North Western Regions

This session includes delegates from Mumbai and the North Western Region of India, which pose a great influence over the overall industry in the country. The countrywide trade meets have proven greater response in terms of trusted support by the Trade in India .
JUNE 2007 :

Globelink Eqypt has relocated to serve you better



Back on May 03,2007, Globelink Egypt has moved to a bigger premise located at : -

8 LUMUMBA STREET, (IN FRONT OF ALEX STADIUM)
ALEXANDRIA, EGYPT
TEL: (203) 3991070 FAX: (203) 3991071

Note: Globelink Egypt Email Addresses will remain unchanged . Pls courier Any Originals / Arrival Notice to above mentioned New Address.

Important amendments on MBL & HBL required to enhance high quality services for Globelink-Egypt Customers

Pls be advised that for all shipments consigned to Globelink Egypt, you are required to indicate on the MBL & HBL .
Final destinations / place of delivery - MERGHEM BONDED WAREHOUSE
Port of discharge - ALEXANDRIA PORT
This will enable GL Egypt to unstuff the container at its warehouse.
Old Procedure: - The container discharge at Alexandria Port on the terminal yard then take its turn to be unstuff on the warehouse, this usually takes more than 7 days.
New Procedure: - We will have the advantage to unstuff the container at Globelink Egypt warehouse - 2 to 3 days only from the container discharge.

JULY 2007 :

India Special - ICD Ahmedabad
Shanghai looks to surpass Singapore as the world's top box port.

SINGAPORE may soon lose its title as the as the world's biggest container port, says Wang Qingwei, secretary of the Shanghai International Port Group, reports the China Knowledge news portal. Singapore 's container traffic increased 14 per cent to 8.8 million TEU in the first four months against Shanghai 's 26 per cent rise in the first five months to 10.3 million TEU.

Mr Wang is confident that Shanghai will handle 20 per cent of the world's containers by next year, and within three years, nearby Yangshan port will add to Shanghai 's clout. With a 15-metre draught, the Yangshan port overcomes the constraints of Shanghai 's tidal shallows. Last year it handled 3.3 million TEU, exceeding expectations of 3 million TEU.

Shanghai port is gaining fast on its chief rival, he said, and is "likely to overtake Singapore next year". Shanghai became the world's busiest port by overall tonnage in 2005 with a total of 443 million tons of cargo. It had overtaken Singapore , which used to dominate. In addition, it outshone Hong Kong, the world's number two container port until the first quarter of this year when Shanghai took that title too. Shanghai handled 2.21 million TEU in May and has seen a 21 per cent rise throughput last month, said China Knowledge.

Shipping volume this year is expected to rise 15 per cent to 25 million TEU. Singapore had 800,000 more TEU than Shanghai in the most recent results compiled in April.
AUGUST 2007 :

New Regional Development Manager China to base in SIN HQ


Mr. Adam Shang who was formerly the General Manager of Globelink Shanghai is now based in Singapore . He joins CWT GLOBELINK HQ team as the Regional Development Manager ( China ). In his new role, Adam will focus on China trade lanes; promote deadfreight and other strategic programs.Adam held various top positions in Globelink Shanghai and Qingdao and brings with him 12 years of freight forwarding experience. We are confident that he will be able to create the synergy and add value to the Globelink group.

GL Xiamen has RELOCATED to service you better.

Effective July 28, 2007, our Xiamen office will move to the following location:
Globelink-Trans ( South China ) Pte.,Ltd Unit B, 12/F. Xingang Plaza
No.10 North Hubing Road, Xiamen , Fujian , China 361012
Tel: +86 592 5697070 (remain unchanged)
Fax: +86 592 5697080 (remain unchanged)
We look forward to your continuous support at our new premise.

Globelink Egypt new warehouse - the first private bonded warehouse in Egypt.

Globelink-Egypt now has its own warehouse and we take pride in announcing to all that ours is the first private bonded warehouse in Egypt.We seek your utmost cooperation in full compliance to the following mandatory regulation to ensure efficient unstuffing of your import shipment at GL Egypt warehouse. Pls be advised that for all shipments consigned to GL Egypt, you are required to indicate on the MBL & HBL.

Final destinations / place of delivery - MERGHEM BONDED WAREHOUSE

Port of discharge - ALEXANDRIA PORT
This will enable GL Egypt to unstuff the container at its warehouse. As such, GL Egypt customers will be able to enjoy the following inherent benefits not received by the other NVOCCs using the Egypt Government warehouse:-

(A) Reduction in unstuffing period
Old Procedure: - The container discharge at Alexandria Port on the terminal yard then take its turn to be unstuff on the warehouse, this usually takes more than 7 days.
New Procedure : - We will have the advantage to unstuff the container at Globelink Egypt warehouse - 2 to 3 days only from the container discharge.

(B) Longer warehouse operating hours
At GL Egypt warehouse, we have an efficient team ready to release and to receive cargoes till midnight whereas the Egypt government warehouse operates from 0800 to 1430 only

(C) Reductions in the receiver's expenses, as there is no gratuitous in our GL Egypt warehouse.
SEPTEMBER 2007 :

GL Australia 10Anniversary
GL Australia has just celebrated its 10 th Anniversary over in Sydney on 16 th August and in Melbourne on 17 th August.

Honourable Guests List

Singapore – Mr Tan and Mr JJ
Malaysia – Mr Steven Ong
Dubai – Mr Iggy & Mr Prahbhakaran
Philippines – Ms April Cochin
USA – Mr Simon Rego
New Zealand - Mr Steve Richardson

The celebrated function was a success and ended with a happy note. GL Australia was proud to present their clients with gifts from the kind sponsorship of fellow Globelink offices and agents.

On behalf of GL Australia, Ms Jacqui McCombie (Managing Director) would like to take this opportunity to thank all the sponsors for gracing the function with their presence and generosity that made these evenings fantastic and memorable.

GL Australia look forward to many more good years of working relationship with all the offices and agents and certainly hope to see more of you attending their 15 th and 20 th year celebrations in the industry.
OCTOBER 2007 :

Globelink Egypt awarded ISO Certification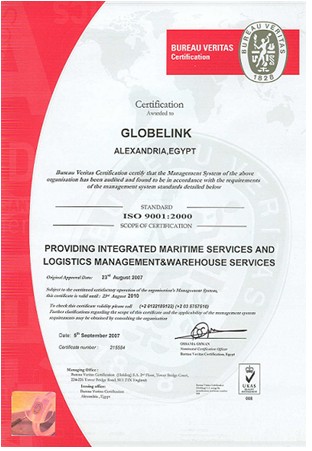 It is a major leap for Globelink Egypt which has been awarded ISO 9001:2000 on 23 rd August 2007.

The certification is indeed the appropriate accolade for the quality services offered by GL Egypt in sea freight, logistics and warehouse management.
NOVEMBER 2007 :

Successful ISO Certification renewal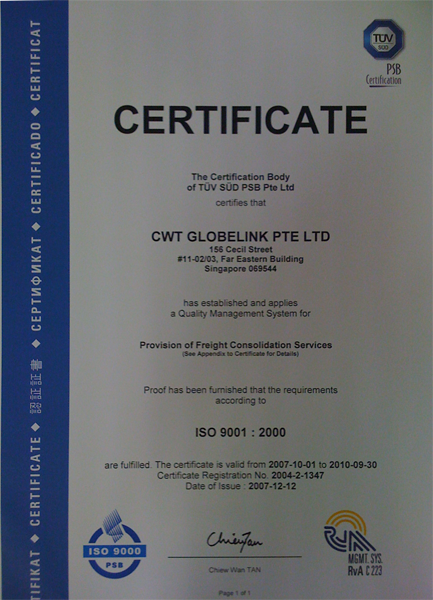 CWT Globelink receives its first ISO certification back in October 2004.

This year marks the first renewal of our certification. We have displayed effective quality management systems, exceeded the stipulated ISO 9001:2000 quality standards and hence been awarded a full renewal of 3 consecutive years. The successful renewal further re-affirms CWT Globelink's quality policy and our competencies:

To be the best in class in meeting customer' needs through continual improvement.
DECEMBER 2007 :

CWT GLOBELINK Annual Conference 2007



This year, 150 delegates from over 40 countries attended the Annual conference in Shenzhen.

The meeting is a good platform for delegates to share their views and experiences on the changing business environment, promotion of innovation and entrepreneurship in facing up to the challenges of competition and the establishment of new development opportunities.

We are grateful to all Globelink offices, partners and agents for your continuous support, cooperation and attendance to make this annual event a successful one.

Our special thanks to the Globelink Shenzhen team who were excellent hosts and made our stay a fruitful and enjoyable experience.
You Are Here
NEWS
Quick Links